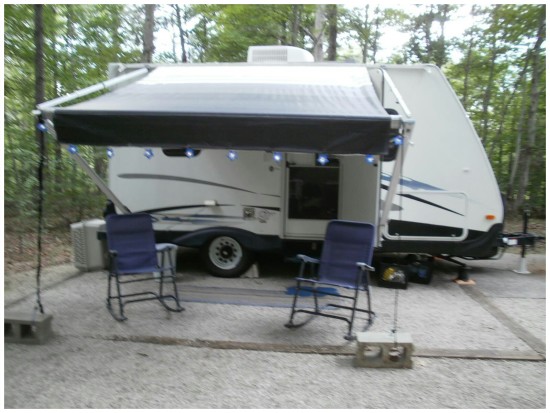 This is an interview with Laura W. who has been RV'ing in the United States for more than four years. She has worked along the way workamping while traveling by R.V. and shares her experiences below with some great tips for anyone who may want to do something similar.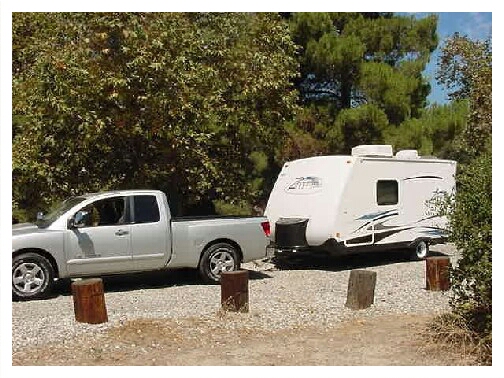 1. Hi, can you introduce yourself a bit – how long have you been traveling/living in your RV and workamping in the U.S.?
My name is Laura W. I have been fulltiming and workamping in an 18ft trailer for 4 years now. I have pulled my trailer across the country 3 going on 4 times.
I have always wanted to fulltime. When my husband decided he didn't want to go I decided to leave on my own. I had a 2004 Keystone Zeppelin in storage and a 2005 Nissan Titan.
Truthfully I was scared to death. My first job was in Yosemite doing housekeeping my husband drove me there then took a flight home. So the first time I drove it was down a mountain; I laughed the whole time 🙂

2. Needing to make money is a concern for most of us, and your story inspiring as you've managed to find work at RV parks to help support your travels. How did you start out? Learn about available jobs?
I researched a lot. Most of us start at Adventureland in Iowa I am not sure why. During winter we either go to Quartzsite Arizona or one of the three Amazon facilities.
One is in Fernley, Nevada, one is in Coffeeville, Kansas and I went to the one in Campbellsville, Ky. They pay good and love workampers. But to find work I always use Workamper News. You have to pay for their services but its worth it.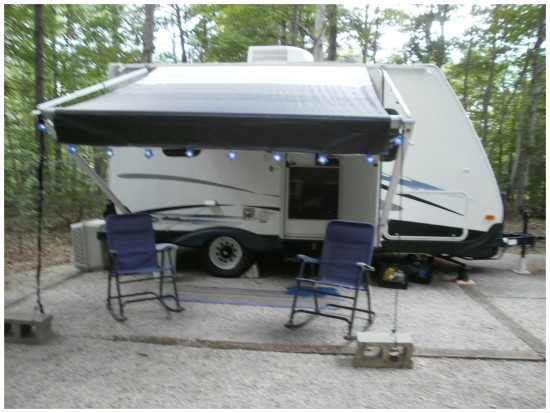 Also you can try Workers on Wheels and Cooljobs. But once you're out there you just talk to fellow workers.
One thing I should mention is in summer I never pay for a site or trade work hours for a site. There are too many jobs available that you dont have to pay for.
Winter is different, jobs are hard to find especially in the colder states. Also this industry is geared for couples (2 for 1). But you can still find jobs as a single.

3. When you find a position you think will work out how do you apply? Do you call the owners of the park before arriving, or just show up and fill-out an application? Is a bit different than traditional job searches!
All of the jobs I have had were obtained through email or phone interviews never in person. We all search on the Internet.
Note from Molly: Here is a page with information and to apply online for Amazon's "Camperforce": Workamping at Amazon

4. What experience did you have for your current work and what are the employers looking for? Specific skills? Reliable person with a professional background?
It's not so much as experience but what you're open and willing to do. I have office and banking experience but because I am willing to clean I get hired more and I am willing to help at anything and any hours.
Reliability is important.

5. Have to ask… what has been your favorite part of living and traveling in your RV and where has been your favorite place to work?
Favorite part is freedom. Most important part is learning more about myself. I can fix most things in my trailer and no longer panic when something goes wrong.
Favorite campground to work is Zilpo in Salt Lick, Kentucky. Beautiful and quiet and great management.

6. Are there any online resources you can recommend for others who are interested in working at RV parks to help supplement their travels?
See #3!

Thank you!
Great answers, now I want to be a workamper! Thanks much for taking the time to share your experience. Best of luck with your journey and may see you on the road somewhere, Molly
More Articles on American Trip Travel Series:
Introducing Road Trip USA Travel Series
Interview with Tiny r(E)volution.us
Montana to Oregon Road Trip
Homeschooling on the Road
Free Overnight RV Parking
Traveling with Dogs
Photographs courtesy of Laura W, all rights reserved.