Last year after a stressful school year and summer in Oregon I was ready to bail the state and take the awesome teen on a little Fall adventure before he started college. I chose to visit Las Vegas as thought it would be fun and the timing was right for sunny weather plus how fun to visit the strip for New Years! Dear Las Vegas: I Love You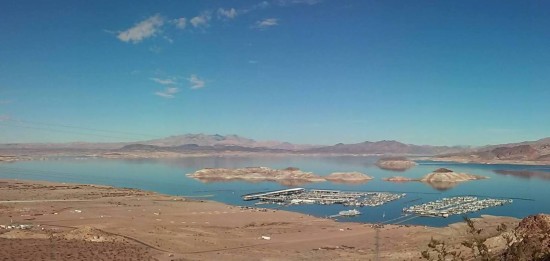 Being the awesome travel partner he usually is he never complained (outside the normal teen griping every parent is used to) though we had a very 'eventful' 13 hour drive. Two of the Jeep Liberty windows went out and on part of the journey it was snowing; not fun! We also had an unexpected 5 day stopover in teeny town Battleground, NV. Our little vintage trailer Chica Casita blew a tire while we were driving on the highway.
I was smart and bought new tires for her before the trip… but not smart enough to have the folks at the tire center check, re-pack and grease the wheel bearings. Live and learn. We had just rounded a bend in the road when I saw sparks flying in my sideview mirror. We were in an open stretch of highway so were easily seen by other drivers when I had to pull off to the side and stop; thankfully no one was hurt.
When we made it to Las Vegas (was like landing in LA, crazy drivers and lots of traffic) we checked out RV parks in the city but all were icky. So we stayed out at Lake Mead National Recreation Area. With my Access Pass we paid only $5 per night to camp (water and bathrooms, no showers) and made trips daily into Boulder City nearby.
Hot Tip: The visitor's center at front entrance has free WiFi!
The awesome teen did some hiking and we both used the local public pool in Boulder City to shower and get a little exercise. We met some cool other American travelers to have a few shared meals with and Mom (though not a huge football fan) got to watch the Super Bowl (awesome game!).
We also made new friends with a couple from Canada traveling through the U.S. all the way to Argentina with their young daughter (under 2 years) on bikes. Wow. I was impressed and they were fun to chat with. Their next stop was Baja and they thought my free travel guide written many years ago was cool: Baja Mexico Travel Guide.
The awesome teen did the 3.7 mile Historic Railroad Trail hike twice… his cell phone was stolen after his first hike and he lost all his photos. He shot a few new ones on his second time around: The Historic Railroad Trail.
There are lots of coyotes who wander into the campground area at night (one stole one of my Keen sandals!) so do not let your dog off-leash.
Lake Mead and Water Levels
It was our first visit to Lake Mead but others we met had lived in the Las Vegas area for years and talked about how the area had changed, most specifically that the shoreline was now very extended. The lake had receeded from years of lowering water tables.
I then wanted to understand why and if it was an unexpected problem caused by mismanagement or overuse or more of an expected natural occurrence. The answer may be both. The issue seems to be that "In an 'average' year, the amount of water flowing out of Lake Mead exceeds the amount of water flowing into Lake Mead."
Source: Lake Mead Low Water.
I also learned this interesting fact:
"Lake Mead stores Colorado River water for delivery to farms, homes and businesses in southern Nevada, Arizona, southern California and northern Mexico. About 96 percent of the water in Lake Mead is from melted snow that fell in Colorado, Utah, New Mexico and Wyoming."
You can get information about this issue as well as on all the campgrounds (private RV parks too) and services on the National Park Service Lake Mead webpage.