This is a bit of a 'day in the life' kind-of post… about living in a little 15ft 1968 Aloha vintage trailer. That does NOT have a bathroom, more on that further down.
Yes, she's small but believe it or not… I am thinking of selling her and getting something a bit smaller. The whole point of having a little trailer and being mobile (for whatever length of time) is to live simply and also tow without hassle or worry.
My tow vehicle rocks – 2006 Jeep Liberty Limited – but I still am a whimp and very new to this. The smaller the better in my opinion. What I would really love (in dreamspeak) is a newer small lightweight trailer like a R-Pod or even an Airstream Bambi Sport.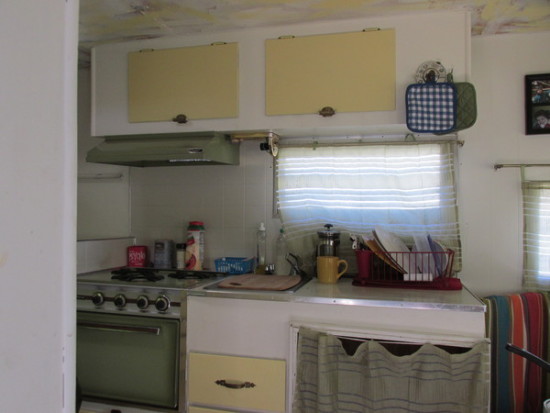 I would not mind towing a little more weight, as long as I knew the trailer was in top condition and stable. With older trailers that is hard to verify. My 1968 Aloha is around 1200 pounds dry weight I have been told (from previous owner and online info) and I do not use the steel water tank, no other tanks in it except for the small propane tank in front.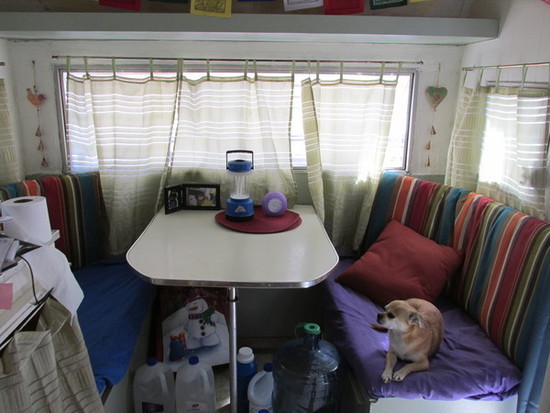 A smaller, or similar size new trailer, sigh, that has a bath/shower combo. And to up the dream ante… I will even get crazy and say AC. Sigh, again. 🙂
Not having a bathroom to use in private, and when I want – is my only complaint about my current living arrangement. Where we are at now if you've got to go between 11 a.m. and 1 p.m. you are out of luck as it is closed for cleaning!