About equidistant from Prineville and Madras, Oregon is Haystack Reservoir, a very popular fishing, boating and camping site during summer. You may even spot a few floaties out on the water, with a young or old floatie plopped inside enjoying the calm waters and sunshine.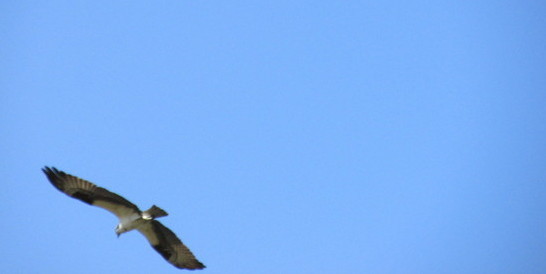 There are three campground areas at Haystack: South Shore ($12 per night), West Shore ($15 per night) and a group site ($60 day). They allow RVs but there are no hookups or electricity. The slightly higher price for camping on the West Shore is due to the availability of fresh water (one spigot to fill up your water bottles).
All areas have a $5 day use fee except for a small area near the dam (away from the campsites) that has a lovely wooden platform for fishing and viewing. There are no flush toilets or showers, only pit toilets at the campground sites.
Both camping areas (on opposite sides of the shore) have a cement boat launch area. Jet skis are a big attraction and the third weekend in August a drag boat race is held on the reservoir. If you like peace and quiet at during your camping adventure, you may want to avoid the weekend crowd and camp during the week when there is usually less activity.
Bird watchers may be in for a treat, during my stay three or more Ospreys circled, fluttered in place then dove headstrong into the waters infront of my campsite, arising with a small fish grasped in their feet.
The official USDA Forest Service webpage on the area is located here: Haystack Reservoir.