The sign to the office door reads: "Through this door are some of the nicest people you would ever want to meet" – or something close to that and I wholeheartedly agree! The staff is kind, helpful and responds to any issues promptly. An added bonus is that they love vintage trailers!
Crooked River Ranch RV Park near Terrebonne, Oregon is a beautiful full service park located next to a golf course. I stayed here a month last summer and loved it. There is a camping area as well as full hook-up sites (cable TV included) and free WiFi service thoughout for all campers.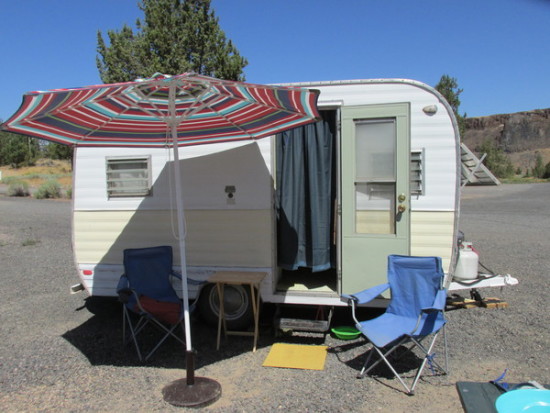 I was so comfy in the now sold 'Chica Casita' little vintage trailer and dug big time the swimming pool. It is a natural saltwater pool with no chlorine and only a few chemicals added for cleaning. It is a short stroll from the campground, has bathrooms with a shower and there is a snack shop plus restaurant next door.
They have an excellent website with many photos and detailed information about the park including special deals such as their Golf/RV special: Crooked River Ranch RV Park website.