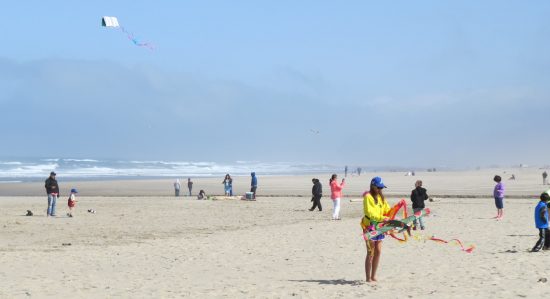 Lincoln city weather is crazier than the town. I was actually headed to Depoe Bay to car camp a few days and go on a whale watching trip but ended up staying a couple of weeks in Lincoln City. Both towns have as their main drag Highway 101.
It's true – the weacher is crazy but the town itself very mellow with a nice mix of locals and tourists passing through. I met a bunch of weekenders who live in Salem just an hour and half drive away, visiting the beaches of Lincoln City for an afternoon.
What Crazy Lincoln City Weather?
Crazy weather in that it's foggy or cloudy with a strong wind chill one hour then the next the sun comes out and you are taking off layers of clothing… for about three hours then a light drizzle of rain may be putting a damper on your sunny day.
A new friend I made at my temporay morning new office – Starbucks in the Safeway grocery store – who has lived in Lincoln City for four years said, "It's the only place in the country where you can experience all four seasons of weather patterns in one day." I believe her.
The cashier at the Dollar Tree said that when she first arrived and was up on a hillside just out of town they watched a cloud move over an area, rain come pouring down while they were not far away and basking in sunshine. "I had to call my family and tell them they would not believe what I am seeing," she said.
I believe her too.
Lovely Devil's Lake
In addition to easily accessible D River Wayside public beach on the Pacific Ocean with large parking lot and public restrooms there is Devil's lake to enjoy.
Devil's lake has a public park (large grassy children's play area plus a couple of picnic tables) and large waterfront area with boat ramp and fishing dock. Access to the public area is a five minute drive from town.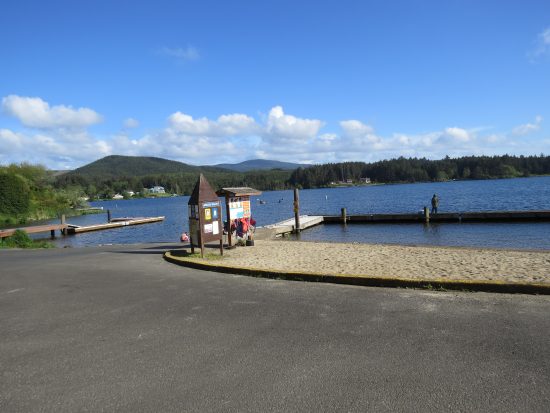 Mexican Food, Chinese Food, Seafood and a Casino
I ate a bunch at 'Oscar's Mexican Restaurant' – just a few blocks from D River Wayside. It is simple Mexican fare but homemade, not fast food crap and they give free quacamole with their sauces. Yes, it is watered down but still yummy and can put on any dish without extra cost.
As Americans will do… most of the locals and tourists were giving business to the new Taco Bell recently opened in town – it was much busier than the local family-owned joint. Made me a bit sad.
I treated myself to Chinese food one day and it was good. There are a few Chinese restuarants in town but I chose the one directly across from D River Wayside on the others side of highway 101. Can't miss it. The chicken lo mein was a large portion and yummy, sweet and sour pork fresh and sauces served with it (hot mustard and a sweet sauce) fresh and good as well plus had battered and fried chicken with orange sauce – really yummy.
Lee's has 65 reviews on yelp plus photos and most are 4-5 stars. They have delivery and take out service plus a website with their menu and pricing: Lee's Chinese Restaurant.
Next to D River Wayside and right on the beach (jacked up high with wood pilings as the area has a high risk of tidal waves) is Kyllo's Seafood & Grill. Looked lovely, definitely one of the more upscale restaurants in town.
The casino in town is right on the beach as well and a very large complex with huge parking lots and one solely for RVs. We parked and slept there a few nights, but I never ventured in the front door as I didn't have money to spend so why tease myself… next time. I've been studying the game of black jack a little, it's back to Las Vegas or the Oregon coast soon to test what I've learned!
You probably want the name of it as well, yes? It is "Chinook Winds Casino Resort". Their fancy pants website is here. Check it out.
Campground and Public Showers
Devil's Lake State Recreation Area is again, just a few minutes from town – on the other side of the lake from the public park and dock area. There are signs on Highway 101, then it is two blocks in. Camping, RV spots with electric hookups and yurts available to rent.
Can pay $2 to take a hot shower. And it was comfortable… not my experience in other state parks that seem intent on keeping the temperature at just the right level to tease you with comfort and relaxation coming out of the spigots in the form of hot water… but not deliver the real thing.
The official Oregon Parks and Recreation Department website is here: Devil's Lake State Recreation Area.
Whale Watching at Depoe Bay
As I stated above, I ended up not staying in Depoe Bay but I did check out the teeny town (very little there, most tourist traffic seemed to be in Lincoln City) and whale watching tour prices – only $25 for one hour out on a boat with Whales Tail LLC. Phone: 554-921-1323.
Great price, next time for sure.