Tortuga Bay is an absolutely gorgeous beach area. You take a taxi (or walk if you know where to go, a bit tricky if you don't) to the entrance, pay a small fee to visit and then walk for about 40 minutes through nature paths to get to the beachfront.
The sand dunes behind the beach are nesting grounds for green marine iguanas and this beach is one of the main areas to see these blackish-grey, sand-covered, scaly reptiles in the Galapagos.
You will see signs along the way such as the one to the left educating visitors about the dune ecosystem they call home and instructing to not touch or disturb them.
This is especially true during breeding season – March through May – when they lay their eggs in the sand at night. The park is closed to visitors after 5 p.m. and is well guarded.
The marine iguana is also prevalent at La Loberia Nature Reserve on San Cristobal Island.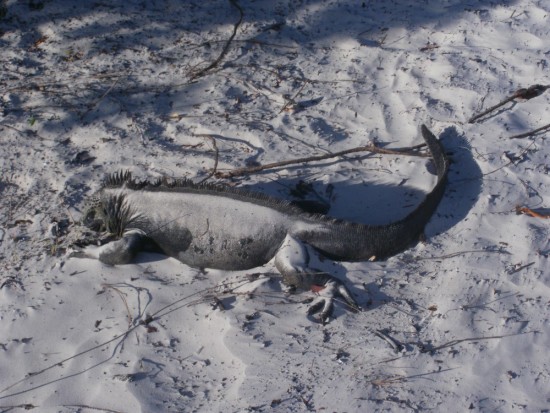 The day we were there a make-shift surf shop had been set-up at the main beach area (photo below), and a few experienced surfers were out in the water.
The main beachfront is known for very dangerous undertows… you seriously have to know what you are doing and be very skilled in the water to be safe. I even kept to knee deep and less water when I jumped in to cool off, and I am a very experienced, competent swimmer.
If you were smart and arrived early, you'll have time to wander down the beach to other areas like the awesome teen did on his visit with friends, that are safe for swimming.
More Galapagos Islands Articles:
Galapagos Islands Lizards & Iguanas
Playa de la Estacion on Puerto Ayora, Santa Cruz Island
Center for Land Tortoises at Charles Darwin Research Center on Puerto Ayora
Hiking on San Cristobal Island, Galapagos
Las Grietas Lagoon on Santa Cruz Island