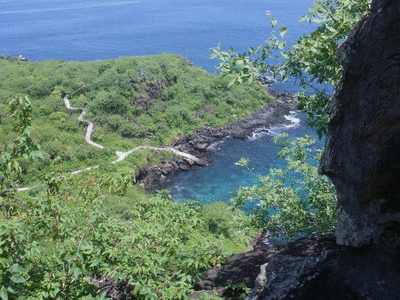 Hiking on San Cristobal Island, Galapagos. San Cristobal Island is one of the 'top two' tourist hubs in the Galapagos Island – the other is Santa Cruz Island.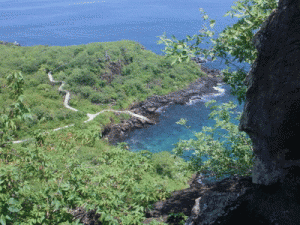 If you take a tour to San Cristobal (highly recommended) it includes a visit to the town & harbor where you will have lunch, a trip to the visitor's center, time at La Loberia Nature Reserve to snorkel with sea lions and a hike to 'Resting Lions Viewpoint', with another snorkeling stop after.
You can hear at the end of the video the tour guide pointing out the sea lion below the rocky outcrop viewpoint, where we went afterwards to snorkel. An awesome trip and an awesome day.
You can visit San Cristobal on your own, of course, and all the stops that are in the extensive guided day trip. Many choose that route if they cannot handle a lot of walking or if they want to spend more time in one of the above locations.
Either way, do not miss La Loberia Nature Reserve – it is a beautiful natural park and one of the main spots to see marine iguanas who are usually wandering around near the walking path. You can view a photograph of one on this page: Galapagos Islands Iguanas & Lizards.
We swam with a green sea turtle on our trip to La Loberia, with all the tourists diving under then coming up for air and pointing out the direction it was swimming so other tourists could see it; great fun.
More Galapagos Islands Articles:
Galapagos Islands Sea Lions
Las Grietas Lagoon on Santa Cruz Island, Galapagos
Playa de la Estacion on Puerto Ayora, Santa Cruz Island
Center for Land Tortoises at Charles Darwin Research Center on Puerto Ayora
Hiking on San Cristobal Island, Galapagos
Galapagos Islands Lizards & Iguanas