Our first stop on the organized boat excursions we were treated to by our friend Ramiro and his crew on the M/V Santa Cruz was to the Cerro Mesa Ecological Reserve to see the Giant Galapagos Turtles.
Galapago means tortoise in Spanish, so we were in the right place.
We connected with the group who were coming ashore for the day in Puerto Ayora and hopped on the bus as directed.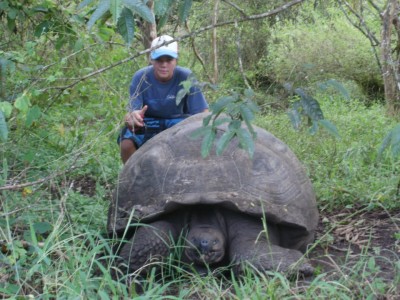 A few miles into the 40 minute or so drive an Ecuadorian crew member in white shirt and khaki shorts asked; "Did everyone bring their passport?" Followed by a large number of mainly older travelers starting to fret and frown, reaching into bags next to them, stashed under their seat… "That's ok, you don't need them".
Ha, ha, ha and so our introduction to Pablo, our fearless leader, and the world of luxury boat tours began.
Cerro Mesa is a private ecological reserve on Santa Cruz Island. We stopped at a large open-air building that sold locally made coffee and snacks. Pablo put on a show giving the basic facts of these incredible creatures and the awesome teen was picked on… I mean picked out to help him out with his tortoise demonstration; very cute.
From there you can take a long walk through the property to spot the tortoises out in their natural environment, or stroll just a short distance and have many at your disposal for fun photographs. The best time to go tortoise hunting and get to see them with their head out of their shell and eating or crawling around is in the morning.
During our visit one was eating (they are vegetarian, love fruit), a few strolling around and one pair courting each other; it was mating season. "See the concave shape of the bottom of Romio's shell?" Says Pablo. "That is so he doesn't crush the female when he mounts her." Pablo was very smart and full of interesting facts.
There are only two types of Giant Tortoise in the world – Aldabra and Galapagos. The Aldabra tortoises come from the Seychelles islands. Both species are endangered.
There is a tortoise breeding center on Isabela Island to help bring the Giant Galapagos Tortoise population back up to a sustainable level.
The Cerro Mesa website includes information on volunteering at the reserve: Cerro Mesa Website.
Near Cerro Mesa is another popular stop on the tourist trail, Garrapatero Beach; a moon-shaped cove with shallow water great for swimming and kayaks available for rent. If you request in advance, there is also camping allowed on this beach.

More Galapagos Islands Articles:
Galapagos Islands Lizards & Iguanas
Playa de la Estacion on Puerto Ayora, Santa Cruz Island
Center for Land Tortoises at Charles Darwin Research Center on Puerto Ayora
Hiking on San Cristobal Island, Galapagos
Las Grietas Lagoon on Santa Cruz Island
Land Iguana Restoration Center on Puerto Ayora
Charles Darwin Research Center