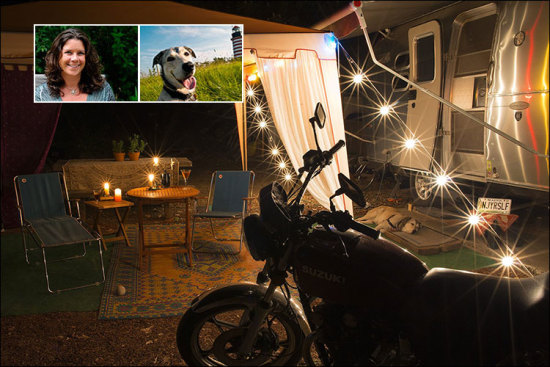 This is an interview with Sharon Pieniak, a writer, graphic designer and photographer who has been traveling in her 20ft Airstream – The Silver Snail – since 2007. That is correct… 2007! She is incredibly inspirational to anyone seeking to branch out and explore our beautiful country and now shares her current adventures in Northern California on her new website: Joyrides of America.
Soon to be released is Sharon's latest project; a fully immersive, interactive app on the Napa Valley featuring local wineries and all aspects of travel in the area for all budget levels. Visit Truly Napa Valley – A Traveler's Guide Now to learn more. You can follow her current adventures on Facebook.
1. I have followed your story since we returned to the U.S. in 2012 and was thinking of buying an Airstream, and possibly traveling full-time. Your old site The Silver Snail was exactly the type of info and inspiration I needed, and long-term travel is now in the makings – thank you! Can you share with others a bit of your background and what your Airstream rig is like?
Well, thank you! I'm so glad it helped inspire! When I started traveling in 2007, I was already working independently at home and would take work with me on vacations. After a 5-week camping road trip through the Canadian Maritimes, I couldn't shake the wanderlust and wanted to continue traveling, in a way that my cat and dog could join me. A friend suggested an RV.
That week, I went to an Airstream dealer, took a look around and found a 20-footer that seemed livable – the kitchen had a lot of counter space, the bathroom had a separate shower and just enough space, and with the bed and dinette, it was everything I needed. Now, I've got a 2012 of the same 20' model (I had some problems with the 2007) and honestly, I still think the size is just right.

2. You have always traveled with a furry companion or two, your beloved dog Riley passing away at the age of 12, cat Peyote also and then adopting a new rambunctious travel partner, a lab/Husky mix named "Harley". How is Harley doing and what if any advice do you have for traveling with a pet long-term?
Harley is doing great. One thing that can be nerve-wracking with pets, is leaving them behind in the trailer while I go somewhere that can't include them. Sometimes I'm not comfortable leaving the windows open (for security or weather reasons), which only leaves the rooftop vents available.
The vents work remarkably well, especially if they have rain covers on them. But if it's a really hot day, or the trailer happens to be parked in direct sun, then it's not enough. Harley happens to hate the loud sound of the air conditioner (and so do I), so that's not an option. And even if it were, I wouldn't feel safe trusting the air conditioner to keep him alive. My air conditioner has failed three times already.
So, since I don't like extreme heat anyway, I tend not to stay in hot places too long. I like to be in an area where he can usually come with me anywhere and stay in the back of the truck, if necessary (I've got a cap on it) with the windows open.

3. Five of the best things about full time RVing, 5 of the worst things… GO!
BEST:
I get inspired by new places, moving forward, the wonder of the unknown.
I know more different kinds of people and places than I ever would have otherwise.
Options – I like when things change, like to know that they can.
Waterfront real estate.
Simplicity of less stuff and the self-reliance of having a home on wheels.
WORST:
Fridge is too small.
Repairs.
State park trails that don't allow dogs.
Loud, sketchy neighbors.
Lack of people in my peer group.
Note from Molly: On her 'The Silver Snail' website Sharon has a section on 'Inspired Cocktails' she concoted while on the road – it is pretty funny, check it out here: Inspired Cocktails.

4. Like many others, I think Airstreams are one of the coolest types of trailers around; they are a bit in a class of their own. For many they can be cost prohibitive as newer models are expensive, and older models may need expensive repairs with parts hard to come by. What would you recommend for someone on a budget? Buy an Airstream for travel (used late model) or keep dreaming (like me) until they can afford a newer rig?
This is a tough question. It's really a personal decision. Some people are more comfortable taking financial risks, others prefer to have a lot saved. I can say that I'm making payments on my Airstream, and I'm looking forward to a day when I'm not. If I could, I'd much rather NOT have any bills to pay, and NOT have to work to pay those bills. But, given my circumstances, I'm also glad that I went ahead with it and am making it work.
There are a lot of options out there for camping/places to park. When I want to spend less money, I volunteer at state parks in exchange for a full hookup site. As a solo traveler, it's a nice way to integrate locally and stay in a beautiful place for a longer period of time with the luxury of full hookups.

5. You began your trip from Maine, and I see from the map of your travels stayed mainly in the southeastern parts of the U.S. Was this due to preference? Or simply to keep driving times between stops short and costs down – the price of gas is an outrage these days.
Primarily to keep costs down. And then I had a major problem with my 2007 Airstream when the floor rotted out after three and a half years, so I wanted to stay relatively close while trying to resolve that with Airstream in Ohio. Now that I'm in the west, I plan to stay out here and eventually cover a lot of ground here too.

6. Have to ask… what was your favorite place on the road? Favorite state?
Lessee……New Orleans and New York City. I love the wild Florida for its rivers and wildlife. The coast of California from Big Sur all the way to the Oregon border. The entire Oregon coast. Astoria, Oregon and the Columbia River.
When I get to the San Juan Islands and Vancouver, BC, they'll probably be on the list, too. Oh, and of course, the San Francisco Bay Area, including Napa Valley.

7. You travel full time… but I am curious to know how long you stay in one location when not moving around? A month (my plan to get lower rates at RV parks), a week? Paying the average $30- $50 (full hook-ups) per night is pretty pricey!
Lately, I seem to be making a career out of camp hosting, so I'm staying in state parks as long as 6 months at a time, in exchange for helping with the operations of the park. California was the first place I tried this out, because it's so expensive to stay here and because it's so beautiful. I knew I wanted to stay awhile.
Volunteering takes up a good chunk of free time, but I love California, so it's completely worth it to me. And, after moving around for so long, I like integrating with the staff and having time to really settle in and know a place and its people… while still being mobile. Now that I've made my preliminary trip round the country "scouting" the general regions, I'd like to spend more time in the places that have inspired me.

8. Please share your current adventure in Napa Valley where you have decide to settle for awhile and work on creating the most awesome travel/winery app the world has ever seen… as well as your new website Joyrides of America. How's it going?
Writing, photographing and designing a Napa Valley book app has been an immense experience on so many levels. It's been a tremendous learning process and I feel very fortunate to have had the opportunity to live in Napa Valley and truly get to know this place — the land, the people, and of course, the great wine estates. I'm so excited to see it released this year.
And it's really nice to have a fresh website with room to grow. I'm looking forward to seeing it expand with more states and beautiful places!
Thank you!
Love this story and I have visited your old 'The Silver Snail' website many times to read your RV park reviews you list by state, very cool. I hope to get to travel the California coast someday and will for sure be checking out your app.
best, Molly