After purchasing my 1968 Aloha vintage travel trailer a few weeks ago I started to research information on the Web, curious about the brand, year… how others had decorated the inside. Story of the $200 Vintage Trailer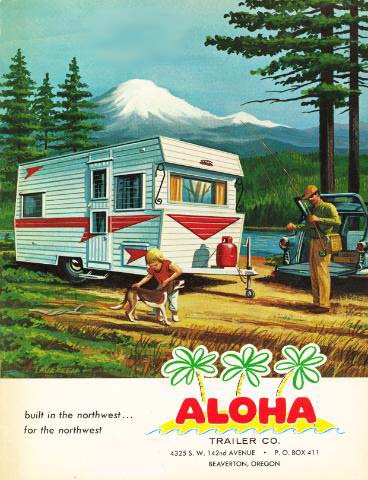 I was (still am) a bit enamored with my little tin can that I got for a steal… and wanted to know all about her and her history.
The best resource by far was (and is) Tin Can Tourist's Wiki page: Aloha Travel Trailers.
Quoted from the website:
"Aloha manufactured economic travel trailers from 1954 to 1970. They were a small comapany but quite popular."
"The smallest trailer they made was 11′ and the largest they manufactured was 28′, at the height of their production in the 1960's they were making 17-19 trailers a day, had several hundred employees, owned their buildings and even had a night shift to keep up with production."

"The main areas where they sold and marketed their trailers were OR, WA, ID and BC and at one point held 13% of the regional market which was 'a remarkable amount' for a small company. Their most popular trailer was the 15′ Beaver."
"Because they were making their trailers for the NW market they had a few unique characteristics including a larger than normal drip rail and thicker plywood around the wheel wells to help deal with moisture."

"Their biggest technological innovation however was wrapping the framing stringers around the frame so there wasn't just a box built onto a frame, this resulted in much higher stability than other travel trailers at the time."
I was born and raised in Seattle, WA and also learned that Aloha trailers were sold in mass and used as extra housing for the over-load of tourists that descended upon the city during the 1962 Worlds Fair.
Photos of Aloha Trailers
An easy way to search for photographs of anything on the web is to do a Google search and then click on 'Images' (default setting is 'Web').
When I did this search the first time I got a bit of a kick out of the fact one of my photos pulled in that I had put on this page: My New Vintage Travel Trailer.
More photos of Aloha trailers are here: Old Trailer.com Aloha Pics
Weight & Hitch Weight
This page on 'My Vintage Travel Trailer' website didn't list my year of trailer, but has most other Aloha year, makes and models with information on the weight of the trailer and the hitch weight: Aloha Travel Trailers.
Decals for Aloha Trailers
Old Trailer.com has photos of many vintage trailer decals and logos, with years and information (so you can then search to buy online!), fun to scroll through: Old Trailer.com Vintage Decals
Some on eBay: Vintage Trailer Decals.