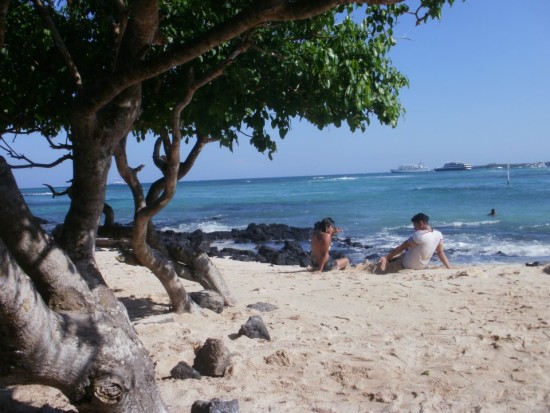 Playa de la Estación is a sweet, hidden beach on the path to the Charles Darwin Research Center in Puerto Ayora. Puerto Ayora is the main town on Santa Cruz Island.
A little ways past the entrance to the research center is a sign off to the right, hidden a bit behind the abundant green foliage (view photo). There is a bike rack at front for you to park, then walk the 100 feet or so to the beachfront.
It is a sandy beach but the shore is rocky and if you are going to snorkel take note the waves can be large and current strong, potentially smashing you up onto the lava boulders surrounding the cove. Be sure to wear water sandals or aqua socks if you are going to swim or snorkel.
From the beach are views of the Puerto Ayora harbor and to Finch Bay across the harbor. It is lovely, sometimes crowded with locals but definitely worth a look if you are heading to the reseearch center or want a beach close to the town of Puerto Ayora.
More Galapagos Islands Articles:
Galapagos Island Lizards & Iguanas
Las Grietas Lagoon on Santa Cruz Island, Galapagos
Galapagos Islands Sea Lions
Hiking on San Cristobal Island, Galapagos
Center for Land Tortoises at Charles Darwin Research Center on Puerto Ayora