On your trip to the Galapagos you are going to see sea lions everywhere, dolphins if you are lucky.
They are a big hit on Puerto Ayora at the fish stand (two blocks from center towards the Darwin Center) where they hound fishermen for scraps.
If you don't believe you will see sea lions everywhere, watch this video of landing at San Cristobal Island harbor and walking to the entrance to the town. Sunbathing, flirting with tourists, frolicking in the water… a great glimpse of what you'll encounter on your trip to the Galapagos Islands.
Below is the awesome teen hanging out on Navy Beach on a morning trip during out stay on a yacht. A mother and her cub were nursing and they were very friendly. We spent two nights, three days aboard the luxury yacht MV Santa Cruz and loved every minute of it.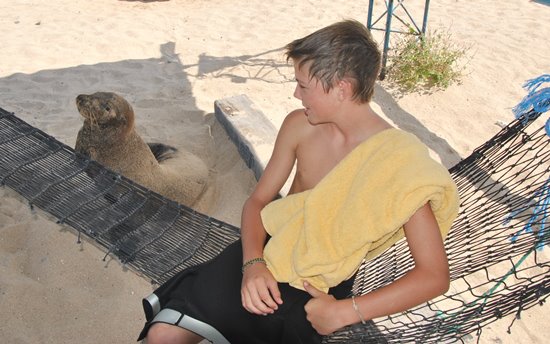 I didn't bring my camera, and could have shot myself after. As the awesome teen and I sat in hammocks, we saw a seal lion coming out of the water on to the shore and heading our way, making funny whimpering type noises (as opposed to their usual barking).
She or he came all the way up to us, and to the larger sea lion next to our hammocks and started nursing. Hello? Take a video please! It was a precious moment and even though not recorded on film, a precious memory as well.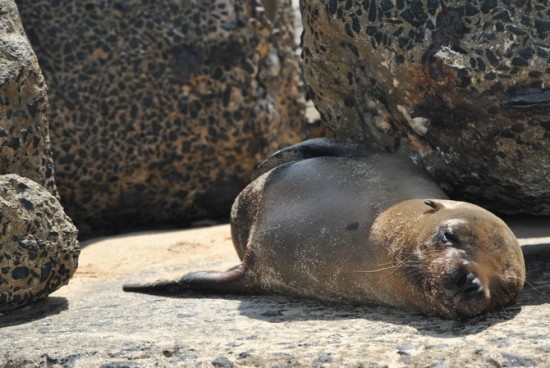 One day the afternoon excursion was a boat trip to swim with sea lions. But you do not have to be on a boat to have this experience. Swimming with Galapagos Sea Lions
We also swam with sea lions at two locations on San Cristobal Island – La Loberia Nature Reserve and after the hike to Resting Lions Viewpoint.
More Galapagos Islands Articles:
Galapagos Islands Lizards & Iguanas
Playa de la Estacion on Puerto Ayora, Santa Cruz Island
Center for Land Tortoises at Charles Darwin Research Center
Hiking on San Cristobal Island, Galapagos
Las Grietas Lagoon on Santa Cruz Island